SAN DIEGO COUNTY WILDFIRES
'Wings' and, now, a prayer
Will award-winning custom home rise from the ashes?
Roger M. Showley
STAFF WRITER
November 11, 2007
Richard Matheron, a retired U.S. ambassador to several African countries, stepped gingerly around the ruins of his 3,200-square-foot house overlooking the San Pasqual Valley and declared the rebuilding effort ahead as his next "adventure."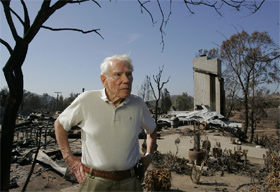 CHARLIE NEUMAN / Union-Tribune
All that's left of Richard Matheron's 17-year-old house overlooking the San Pasqual Valley is the chimney and a lap pool.
"That's the only way to look at it," he said. "I'm determined not to be depressed."
Matheron's architect, Norm Applebaum, also was looking to the future, even though the ashes represented years of work on the home. The award-winning house was completed in 1990 and had been featured in numerous magazines and on two national TV shows. For him, losing the home known as "Wings" came as a nightmare already lived. In 2003, one of Applebaum's other custom homes, located in Poway, was destroyed in the Cedar fire.
"We're going to work on the (design) program together and start another project,"Applebaum said. "I won't do anything at all until they give me a program -- so many bathrooms, so many bedrooms, the living room, green materials --whatever it is."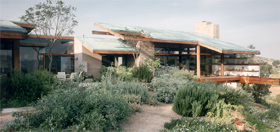 Kim Brun
Architect Norm Applebaum designed the Matheron residence, known as "Wings," as a projecting redwood sentinel looking out over the San Pasqual Valley.
Every victim of last month's fires has similar thoughts --to rebuild or not; to duplicate the lost structure or do something quite different; to work within the constraints of insurance proceeds or to invest more.
Matheron, 80, said he and his wife, Kay, are inclined to rebuild on the site, even though he could imagine starting over in a high-rise condo downtown within walking distance of Copley Symphony Hall.
"I've been lucky to have a roof over my head,"he said, as he thought back to his postings over a 30-year career as a foreign service officer in Ethiopa, Swaziland and other places in Africa, Asia and Europe. "I've seen so much suffering and horror in the world ... I'm thankful that we don't have the problems people have in the places where I've served."
What was special about the Matheron house was its custom design suited to a setting reminiscent of an African plain. The Matherons would entertain guests by having them peer through a telescope at the exotic animals on the open lands below, within the San Diego Wild Animal Park, that resemble an African habitat. The couple also had an extensive collection of African art and books.
"I had probably one of the best collections of traditional African art in this part of California,"he said. He had forgotten to toss some of the items into the lap pool in the rush to evacuate.
"It's gone. There's nothing you can say. I feel guilt in not being able to pass on some of the objects to posterity."
But he smiled when asked if the next year or more of planning and rebuilding will require multiple trips abroad to collect new items to put in the new house.
And there are the new state-of-the-art, high-tech gadgets to order and a chance to build in a sustainable way. Long ago, Kay wrote a paper in high school about solar power, and Richard said she will insist on installing photovoltaic panels that had not become affordable in 1990.
"It'll give me something to do,"he added, as his wife continues her grant-writing job at Interfaith Community Services in Escondido.
The Matherons originally found the site in 1981, when they were on leave from Swaziland and touring of the Wild Animal Park.
Near the corner of Bandy Canyon and Sky High roads, they spied a for-sale sign, checked the price with local friends and real estate experts, and bought the lot. In 1986, they were back for good and interviewing architects.
Most pulled out their résumés and portfolios but showed little interest in the site or the Matherons' lifestyle, Matheron said. They should have been more sensitive to the fact that Kay then worked for the American Institute of Architects in Washington, D.C.
Then the couple came upon a house designed by Applebaum in La Jolla and, while they worried whether they could afford one of his designs, hired him in 1988 for what became a $600,000 project. Applebaum also became a new best friend.
"When you hire an architect, it's like getting married," Matheron said.
Three months after the house was completed, The San Diego Union's architecture critic, Kay Kaiser, wrote a review, calling attention to the clear cedar siding, corrugated steel roof painted the color of copper and the light pine floor inside.
"Thanks to Applebaum's light touch, they enjoy the rain on the metal roofs and Escondido's occasional lightning storms," Kaiser wrote. "How lucky they are to have found an architect who could connect them to these primitive delights in a modern way."
Over the 17 years they lived in "Wings,"the Matherons entertained many guests; her 99-year-old father, William Ellenberger, and a caregiver lived in the Applebaum-designed guest house.
But on Monday, Oct. 22, five days before the Matherons were set to fly to France and while they were entertaining two house guests, all were ordered to evacuate in advance of the firestorm sweeping down the valley from Ramona.
"I'm going to stay and fight it,"Richard told firefighters.
Their reply: "You'll be all alone. There'll be no one to help you."
The house guests left immediately for a road trip up the coast; Ellenberger and his caregiver drove to an interim location in north Escondido, and Richard and Kay regrouped at a friend's Solana Beach condo with a dozen other evacuees.
By Wednesday, they learned their house had been consumed by the fire. On Thursday, they ventured back to the site to see for themselves.
"We were prepared to cry. We were prepared to lose everything,"Matheron said, but there were no tears as he surveyed the total loss. He likened it to a scene from Hiroshima, Japan, after the atomic bomb struck in 1945.
"t's so horrible, it's beautiful," Richard recalled thinking.
The corrugated roof had collapsed and buckled into a shape reminiscent of a Frank Gehry design. A long steel beam lay across the living room space, bent 15 degrees from the heat. Succulents and an assortment of California native plants and African species were singed with perhaps had some life still.
Applebaum met the couple two days later and helped salvage a few objects from the ashes. There were hugs all around.
The architect said he maintains a proprietary interest in each of the many homes around the country he has designed, including a Rancho Santa Fe residence listed by the tax assessor as the county's most expensive residence.
"They're like children to me," Applebaum said of his houses. "It's very, very tough."
An advocate of plentiful use of wood and glass, Applebaum said he would investigate incorporating more fire-resistant materials. He's currently reviewing the original building plans to provide a replacement cost estimate for the family's insurance carrier. Building an all-concrete house was considered 20 years ago but deemed too costly.
"Fire itself is so powerful,"Applebaum said. "I don't think even a concrete house, if it heats up enough (would survive). You'd lose its strength."
As Matheron left his dream house-turned-nightmare, an African statue head from Ouagadougou, Burkina Faso, in west Africa, seemed to bid a silent farewell from a step where it had been set down after the fire.
"He always looked sad," Matheron said. "Now, he looks sadder."
---
Roger M. Showley: (619) 293-1286; roger.showley@uniontrib.com
---
Home editor Carl Larsen contributed to this report.