Program presenters' Remarks
2018 Robert Mosher Lifetime Achievement Award
Speakers' Transcript
Presenter: Steve Shinn, AIA - President, AIASD
On behalf of the Board of Directors, committee chairs and staff of AIA San Diego, welcome to the 2018 Robert Mosher Lifetime Achievement Awards. We do this to emphasize the importance of the Architect, honoring the struggles and achievements of the Individual, not just a well-designed building.

The AIASD Robert Mosher Lifetime Achievement Award is the highest honor that the American Institute of Architects San Diego can bestow upon its members. It is conferred by the AIASD Chapter in recognition of the following: a member's significant body of work, local contributions to the Chapter, enduring contributions to the community in areas of design. The award is given in recognition of a career of dedicated commitment to the built environment.
To present these awards, we are honored to have Marvin Malecha, FAIA, as our master of ceremonies.

Presenter: Marvin Malecha, FAIA - President and Chief Academic Officer at NewSchool of Architecture & Design in San Diego, California
Overview of Norm Applebaum's Career
During a career spanning nearly a half-century, Norm Applebaum has created a substantial body of exceptional design work. He has truly excelled as an architect, artist, and master craftsman. He has created timeless designs that spring from Modernism's ideal of truth in function and materials, evolving the California Modern ideal of indoor-outdoor living into a highly individualized architecture.
Early Life

Norm was born and spent his early days in Chicago. His family moved to Los Angeles when he was five, where his mother was a mezzo-soprano and his father a violinist, and eventually he would become an accomplished jazz trombonist. As a young man, he attended the Merchandising Institute in Los Angeles. He knew that he wanted to be an architect so he took an aptitude test at Los Angeles City College. The results of the test indicated he was not suited to be an architect, an opinion echoed by his mother. But his first wife and her mother encouraged him that he could be anything that he wanted to be. This show of support was all the influence he needed to pursue a career in architecture.

Education and Influence

Norm was an admirer of the teachings of Cal Straub, FAIA, a renowned architect and educator who had a significant impact on post-war architecture. Upon learning that Cal was taking his architectural program from USC to head the department at Arizona State University, Norm followed.

He graduated with a Bachelor of Architecture degree in 1968. Norm considers Cal Straub a mentor and a strong influence. Others who inspired him include Frank Lloyd Wright, John Lautner, Rudolph Shindler, and Arthur Erickson.

While in Arizona, he also studied with Paolo Soleri, the visionary architect of Arcology (portmanteau of "architecture" and "ecology").

Profession

Norm's first job in San Diego was with Don Goldman followed by several years at Homer Delawie's firm. He remembers Mr. Delawie as "a tough boss" but he stayed on through those years anyway because he realized he was gaining valuable experience as he was expected to "do everything."
Norm also spent time in the offices of Paul McKim and Simpson & Gerber. He worked for Liebhardt, Weston, and Goldman during the time that they were designing the San Diego Wild Animal Park.

Norm received his California license and founded his own firm as a sole-practitioner in 1972. To quote Norm, "Great architecture is born from the single mind focused on a timeless concept."
The process that Norm follows is uniquely his own. He starts with the owner's requirements, a discussion with the client about how the client wants to live, and an assessment of the site and its potential. He then sketches a rough floor plan to locate the footprint on the site and obtains the owner's approval. The three dimensional concept is then realized through scale models he builds in his office. After a model evolves to completion, which could take up to a full year, it is measured in great detail and, from that, elevations, sections, and ultimately construction documents are developed.
Norm's designs place a high priority on functionality while, at the same time, exhibiting a strong sculptural quality. An Applebaum home becomes sculpture as cantilevered rooflines, clerestory glass, and transparent interiors come together. Structural steel and wood beams support soaring ceilings that appear to float. Interior spaces open into one another with intriguing interplays of shadow and light. Natural wood, concrete block and expanses of glass embrace the outdoors and create a sense of freedom.
There are several design elements that make up Norm's signature style. These include:
Harmony with the site
A sense of drama upon approaching the entry which is enhanced by water features
Cantilevered beams and shelves
Lighted niches for display of art and other artifacts
Rooms that look out on gardens and natural features of the site. Norm has taken the California concept of indoor / outdoor living to a new level.
White walls with no trim or moldings
Walls that stop short of the roof create a flow of space which is left open or filled with clerestory glass
Extensive use of light colored woods in ceilings, floors, and cabinetry
A human scale
A sense of a three-dimensional sculptural quality
Believing that real architecture grows out of the land, he carefully integrates his structures into the surroundings so that they blend harmoniously with the natural environment. One of his most famous houses is the Starkman residence in Paso Robles, known as "Fox Hollow." It was decided that the house would be designed around three existing multi-trunked oaks. This house features extremely long cantilevered beams, which were designed to not only avoid the trees but allow for their future growth.

Each of Norm's homes reflects the individual personality and lifestyle of its owner. "Architecture is working together with clients to create a functional work of art. If the function isn't met, it isn't architecture." His Zen-like approach to the site respects nature.

Norm spends a substantial amount of time working closely with the client on each project and he is proud to speak of the lasting relationships that he has formed with these people. He puts so much of himself into each project that he considers each to be "one of his children". At least two of his masterpieces have been destroyed by wildfires and his sadness is still obvious when he talks about them.

Norm's completed projects include over 30 custom residences, 40 residential remodels, and four commercial projects. While most projects are in California, his work can be found as far afield as Wisconsin, Georgia, and Maryland.

In addition to receiving numerous awards, Norm's projects have been featured in seven books, eleven international publications, over fifty national, regional and local publications, and appeared nearly 30 times on TV.

Philosophy/Music

He feels very strongly that there is a strong link between his music and the architecture that he creates. He explains that the innovation required of a jazz musician is very similar to that required to create outstanding architecture, going on to say that all of the architects whose work he admires were also musicians. Norm once wrote a letter to the renowned jazz musician George Shearing stating that he didn't think he could create the design masterpieces that he has without Shearing's music to listen to.

Tributes

No discussion of Norm Applebaum and his accomplishments would be complete without some of the tributes that have been offered by others whom Norm admires.

Michael John Pittas, Dean of the Otis Art Institute of the Parsons School of Design, wrote to one of Norm's clients, stating, "I want to once again commend you on the extraordinary architecture of your home. One rarely finds such quality of craftsmanship, detail, and drama in a contemporary home. You are indeed very fortunate and we are fortunate, as architects, to have experienced this truly masterwork."

As Joseph Wong, FAIA acknowledged, "Norm is at once a devoted designer, artist, musician, and master-craftsman whose work has elevated the profession. His thorough devotion to his clients and projects, his aptitude at originating, expressing, and promoting innovative design when approaching a challenge, and his dedication to invention, all set him apart from his colleagues."

The late renowned architectural photographer, Julius Shulman, told Norm, while attending the housewarming for one of Norm's projects, "This is the finest house in the world. Your genius is beyond words."

Certificate Language

During almost fifty years of practice, you have created a substantial body of design work of exceptional quality. The majority of your projects have been residential and you have truly excelled. Each of your projects is a unique expression, but certain common threads reflect your very unique and sensitive approach.

Your work shows the subtle influence of many of the modern masters but as a cohesive element in your own philosophy and approach. Julius Shulman perhaps summarized this best in saying, "You are a master at what you do. Your work is tied to the Modernists of Southern California, Harris, Shindler, Wright- yet it is fresh, new, and exciting."

You have taken the Southern California approach which strives to integrate the indoors with the outdoors to an exciting level. Each of your creations shows a deep sensitivity to its often-spectacular site. Your projects feature an extensive use of natural wood, which creates a level of warmth not often seen, and the level of thoughtful detailing is outstanding. Your abilities and passion as an architect, artist, and master craftsman are impressive, and they are readily reflected in your work. You have acknowledged being greatly influenced by art and music. Many of your projects are more than mere residences; they are exquisite pieces of sculpture, crafted to suit the personality and lifestyle of a particular client.

Your work has been widely recognized through publication and awards. This Lifetime Achievement Award is presented to celebrate your remarkable career.

Norm Applebaum, please come up and receive your award.

Norm Applebaum AIA - Acceptance Remarks

I want to thank you all, friends, colleagues and family, in fact it almost feels like being at my own funeral!

Years ago, when I was 20, as a young married, my mother-in-law Anne Neiman gave me some advice that I would like to share with you: "The easy way is the hard way and the hard way is the easy way". I have followed that rule all my life and found out it is the answer and the truth in everything I do.
I was asked by the local chapter of the American Institute of Architects to try for a fellowship in 2005, 2006: with regard to this I had to blow my own horn, put together a portfolio twice and did not receive the award. Hurt, angry, and bitter, I called an individual that I met in 1959, who later became the 1995 National President of the AIA. His reply was that I can get you in. Now I ask you, what is that all about?

I was having lunch a few weeks later with my dear friend architect Ray Kappe, founder of Sci Arc, the noted school of architecture in Los Angeles and one of the finest Southern California residential architects I have ever known. Ray told me that "You don't need an "F" in front of your membership with regard to the AIA because we know what you do, Norm".

The Robert Mosher Lifetime Achievement Award was given to me 12 years later. Bob was the ultimate gentleman architect and it took me 30 years to get to know him. He had his clan of architects and I was a generation behind him. We became quite close, for 12 years, after he experienced my architecture.

The awards committee, led by architect Laura Ducharme Conboy, came to me and this is what it is all about and the way it should be done. They put this presentation together not me, and it is what you see tonight. Although I must say the utmost award or reward relative to my thinking is creating homes for my clients and having them live their daily lives in my architecture, nothing could be more important.

I was asked by a committee member how many homes have you created? I replied with a paraphrased quote from I.M. Pei: "I have done 100's of projects but none come near the architecture of the late Lou Kahn's great buildings and he only did a few". Although I am not Lou Kahn I have only done a few.

In closing, a quote from Frank Lloyd Wright: "Years ago I had to choose between honest arrogance and hypocritical humility and I chose honest arrogance and see no need to change".

With regard to that statement: Yes, I am arrogant but the essence of my life and practice is honesty and always will be, there is nothing else.

Thank you.

A Testimonial Not Spoken
I have known Norm since our days in architecture school at ASU in the mid 1960's. The thing that I remember most, and the thing that is still so endearing about Norm to this day, is his innocent, uncorrupted commitment to the love of architecture…The love of art as an expression of life itself.
As most of us struggle to balance out art, our craft with the realities of day to day business and survival, Norm somehow manages to maintain the wide eyed enthusiasm of a young man just beginning his journey into architecture.
Architect Obie G. Bowman FAIA
Healdsburg CA
October 18, 2018

Presentation DVD cover art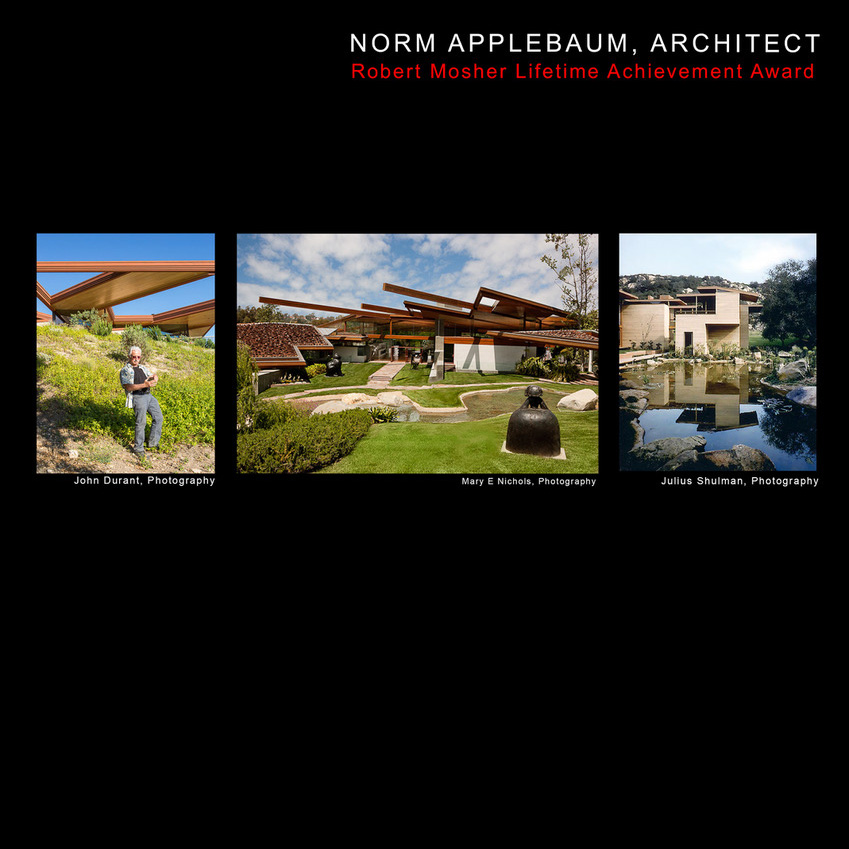 Back cover of presentation DVD cover art with Certificate language