"Wings", The Richard C. Matheron Residence, is included in the book Another 100 of the World's Best Houses, Images Publishing, 2003, ISBN 1 920744 24 X. Excerpt written by the architect, Norm Applebaum.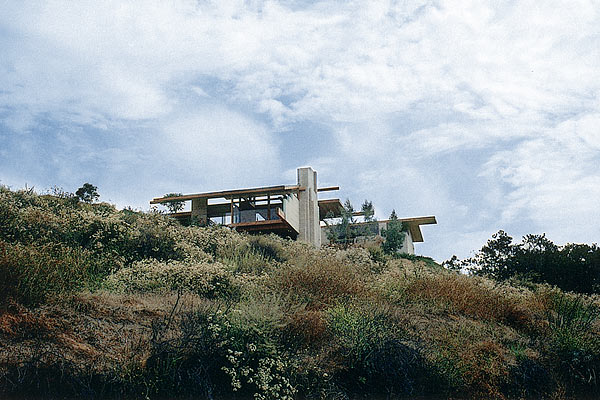 Photography
Norm Applebaum
Matheron Residence "Wings"
It's dawn and as the sun rises above the horizon, the house begins to glisten. Like a bird ready for flight, it matches what nature offers as red shouldered hawks glide below. Freedom is the word that describes this architecture.
The edifice known as "Wings" is owned by Richard C. Matheron, former United States Ambassador to Swaziland, Africa and his wife, Katherine. This Southern California contemporary home is pure design and reflects an open plan. It acknowledges the Japanese House and the principals of past great architects such as Shindler, Harris, Maybeck and Wright.
The architect was chosen because of his sensitivity to the environment, an element indispensible with regard to the Matheron's daily life in their new home. The residence is a modern expression of sophisticated simplicity with visual extensions of space achieved by use of dropped walls and floor to ceiling glass panels. The rhythmic fenestration fills the house with natural light in the daytime and evening brings to the observer an illuminated roof line that appears to float above the clerestory glass.
The materials used were expressed in an honest manner, 1x4 cedar siding, lightly stained, exposed steel, painted oxide red primer, redwood and douglas fir with a clear oil finish, 3 score concrete masonry and a roof of corrugated steel panels painted with a copper emulsion paint.
This architect takes the California modern ideal of indoor-outdoor living in a highly individualized manner, believing that real architecture grows out of the land.